Want to get the most out of your professional development platform? Here are 10 things you'll need to get clear on first.
Do your employees seem dejected and unmotivated to show up every morning? Do they seem incapable of hitting given milestones in time? Does there seem to be a disconnect between them and top management?
If so, it is probably because they feel left out. They feel their suggestions are not taken to heart. When they feel that they cannot progress professionally in such an environment, they will soon jump ship. It is high time you invested in a professional development platform.
What is a professional development platform, and is it worth taking a punt on?
A professional development platform is an online forum on which your talent can share ideas, learn and enhance their skills so that they deliver better work. We could list a whole bunch of statistics that argue the advantages of having a professional development platform for your employees. However, it's better if we just show you. Check out this infographic busting the myths many employers have regarding their employees' professional development.
Makes sense to have a professional development platform, right? Let's look at some key elements you'll need to have in mind when putting together your professional online community.
10 elements you'll need to get the most out of the platform
Here are 10 things that you should have in mind in order to get a better return on investment when running such a professional development platform.
1. Target audience
The whole point of setting up a professional online community is so that you can interact with your employees. It is, therefore, vital that you know exactly who they are. Your company is made up of different departments. If they are located on different floors or addresses, these employees will rarely meet. The platform makes it easier for them to coordinate and bring forth new ideas that will make your product something the consumers will enjoy.
Even then, it is important to tailor your content on the platform accordingly. For instance you could use user groups to send notifications about a specific product to the individuals who are likely to take part in its creation from conception to when it hits the shelves.
Related: 5 Ways to Get the Most out of Professional Development Platforms
2.  The power of social media
Social media is a huge part of the day for many people. When making this online community for your employees, you should ensure that your platform ties into these various websites and apps. This enables your members to conveniently log in. A member will not view the community as a distraction from their routine social media activities but rather as an extension. The ability to easily share content from inside your community may also be an important platform feature for your members. Be sure to ask them!
3.  Security
With the inclusion of social media, however, you have created a potential avenue for sensitive data to get into the wrong hands. This especially concerns the users' personal data. This could be easily accessed if your technological infrastructure is wobbly. Get your tech lead to ensure that your platform takes protecting user data (and the new EU GDPR compliance regulations) seriously. Believe me; you'll be grateful that they do.
4. Excellent platform design
Not only should your security be top notch, the aesthetics of the platform should be something your members love to interact with. It's got to be intuitive, making it easy for the members to navigate through it. A good user experience keeps the members interested in using the platform. It should also allow members to utilize different multimedia like photos, videos, and GIFs when they do not feel like typing everything out. I mean, everyone loves a good GIF, right?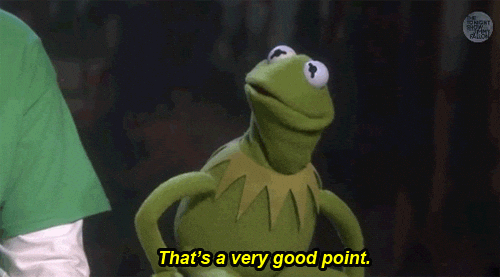 5. Be mobile ready!
We are now in the mobile era, accessing data through our smartphones and tablets more than desktop computers. This statistic shows just how much people access the internet via the gadgets in their palms.
So you want to make sure that you are seriously considering the mobile experience for your community members! Furthermore, going mobile means members' access is not limited to the times of day when they can get in front of their desktop. You should, therefore, ensure that your platform can be easily accessible through all mobile devices. Your employees should be able to communicate and share ideas even when they have clocked out. That is if they feel like it. The thing is, though; they should and will! Your platform has a great design and is easily accessible.
6. Top notch content
If you want to get the best out of your professional development platform, you should provide excellent content for them to interact with i.e. content that won't make them nod off and disengage. Did you know that more than three-quarters of internet users prefer video content? That alone should wake you up. What's more engaging…  pages of text or a short video like this one?
Cartoons, or what's referred to as "animated explainer videos" work well too. Producing and sharing animated videos – with some humor injected – can go a long way towards getting your community members out of their shells and excited to participate in your community. So make sure your team sit down and come up with a solid content strategy for your community. Better yet, begin the process by soliciting community feedback via your professional development platform. That way, you'll know exactly what your users want and can deliver it!
7.  Gamification
No, this is not some tough course at uni. Gamification is simply a technique to encourage engagement by making tasks in the form of games. If tasks are boring or hard to accomplish, you can set up a scoring system on your platform that makes the task a sort of competition. Of course you need to put incentives for those who top the leaderboard so that everyone can give their all. Not only does this increase the productivity of the employees, they also get to learn new skills when they are coached to take on the game. Your employees' intelligence is bound to grow. Findings published in the Journal of Play show that gaming increases mental processes like attention, perception, memory and decision making. Who wouldn't want their employees to have plenty of these skills? In this short video, gamification pioneer and entrepreneur Yu-kai Chou gives you some more insight into the subject.
It's worth noting here the power of choosing intrinsic motivators over external motivators. We discussed this in further detail in a previous post on how to get the most out of your customer community platform.  
8. Offline engagements
You know how your brother's kid is always asking if you have games on your phone? Always excited and talking to his Uncle Jack? Then this excitement tapers off as he gets older? Well, that's online communities for you, professional development platforms included. You should find other ways of engaging members to retain their interest. One of these is offline activities. Regular retreats and local city meetups outside of work, for example, enable your members to know each other on a deeper level and build stronger relationships. Want some team building ideas that don't suck? Read this.
9. Gratitude
Your employees want to feel valued. Let them know what your plans are during the course of their participation on the platform. Highlight the skills or certifications they will earn from the activities. You should also provide constant feedback regarding their contributions. If they know that you greatly consider their input, they will be more invested in your business and ensure that they give it their best. Public acknowledgement in front of their colleagues is one way to show your gratitude. This gesture shows that you appreciate their time and input.
10.  A knowledgeable team
Let's not forget the importance of having a solid team to drive your efforts. Development of a professional development platform requires you to have a multidimensional team in place. This includes moderators who interact with the platform members. Alongside these, there should be people who identify the relevant data required and record it. You'll also want access to tech support i.e. people who are responsive and can help with technical issues should any arise within your platform.
Related: 3 Reasons to Start With an Employee Community Today!
Where to from here?
Take 30 mins to review all the 10 different elements listed above and formulate your professional development strategy. Then select the right platform to help you execute that strategy. As we have seen, it really is smart business to invest in the right professional development platform. Your employees feel like that they are on the right track, and can feel connected and appreciated for participating in something bigger than themselves.
Want to take your staff development to the next level? Try CMNTY professional development platform 14 Days for FREE.